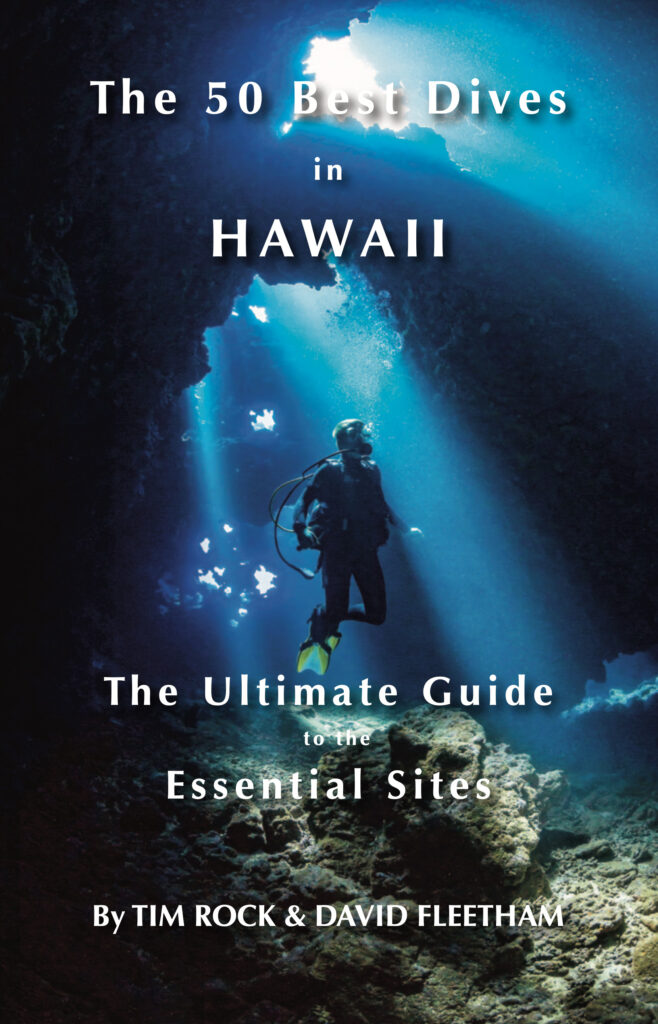 The Hawaiian Islands conjure up exotic visions of white sand beaches, blue waters, great scenery and a friendly and welcoming culture. As the 50 th country in the USA, it is unique. And the waters below these islands are also special, with more endemic life than perhaps any dive destination in the world. In this comprehensive book, the first of its kind, Tim Rock and David Fleetham pick the 50 Best Dives in Hawaii and give you the inside information on each fascinating spot.
From the best places to see manta lights, sharks, fish schools and odd, rare, tiny critters to the amazing blackwater dives in the inky dark of the night, youall travelling with the pros to experience the cream of the crop in the high seas off Hawaiias coasts. The volume has 192 full-color pages and is available on Amazon and Apple for US $12.99 in e-Book form suitable for either iPad or Kindle readers. The physical soft-cover volume can be purchased for US $38.99 from Amazon.
Authors David Fleetham and Tim Rock are internationally published photojournalists and authors, with decades of Hawaiian dive experience. Fleetham resides in Maui and works as a professional ocean photojournalist and Rock resides in the western Pacific and induces frequent trips to Hawaiian water. Their years of experience make this one of the most informative and beautifully exemplified volumes ever written about Hawaiias undersea resources.
The a50 Best Divesa series is for active divers and armchair travelers alike. It takes the reader to not only the popular places in a region but also some of the lesser dived yet most fascinating spots. This book is a veritable candy store of the finest diving and snorkeling Hawaii has to offer and gives you a great tour of the water of this special state.
Inside: Site Descriptions, Approximate Depths, Dive Tips, Practicalities, Islands, Reefs, Wrecks, Critters, Endemics, Culture
Fellow author Simon Pridmore says:" What a welcome book! This latest addition to the" 50 Best Dives" series takes us on a safari around the diving hotspots of Hawaii, a destination often overlooked by scuba divers. I had heard about the whales and the mantas but had no idea that there was so much assortment here a shipwrecks, sharks, seals, critters, great reefs and a lot of endemic beings. Hawaii is now high on my diving bucket listing. Rock and Fleetham have done a great job with this, offering fascinating background information, lots of local secrets and a selection of perfectly superb images ."
For more info check out Amazon.com
The post Book: 50 Best Dives in Hawaii appeared first on DIVER magazine.