Five crew members escape but 33 passengers and one other crew member missing or dead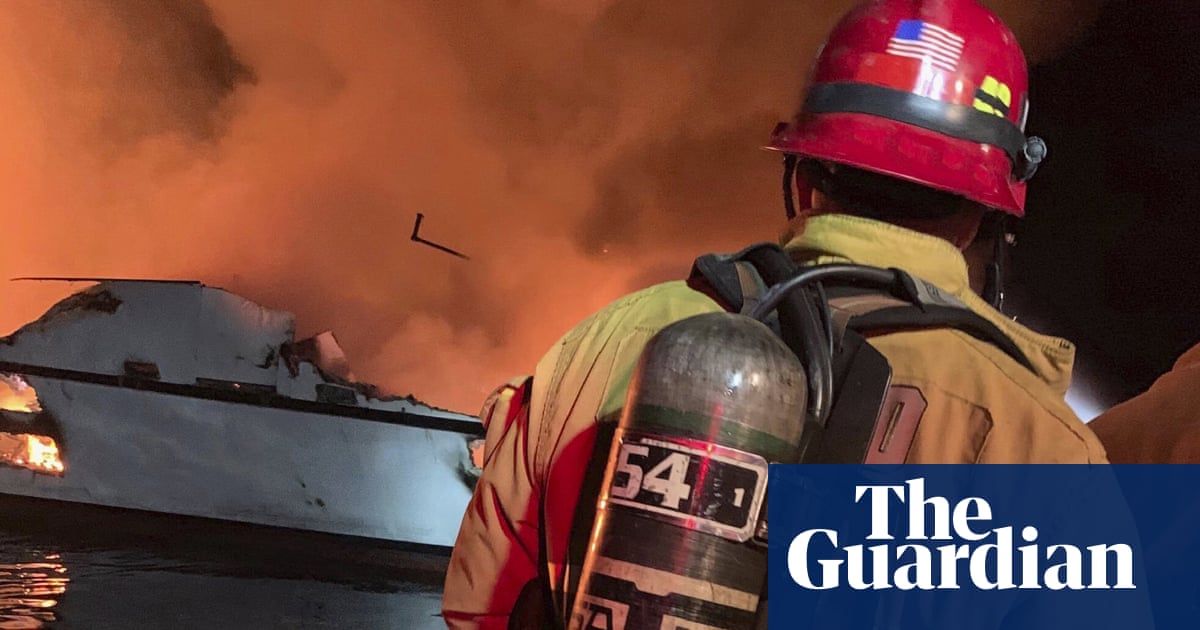 Twenty-five people have died and nine remain missing after a boat was engulfed in flames and sank off the coast of Santa Barbara and Los Angeles.
The US Coast Guard said five crew members escaped from the 23 -metre( 75 ft) commercial scuba diving boat but 33 passengers and one other crew member were missing or found dead after the fire early on Monday morning.
As the recovery attempt progressed, 25 bodies were found and nine people were unaccounted for, presumed dead, as of late on Monday evening. The Coast Guard official Matthew Kroll said the first bodies recovered had signs consistent with drowning.
The boat was docked near Santa Cruz Island at the time of the fire.
The first four bodies recovered were identified as two adult males and two adult females, but authorities said they would need to carry out DNA exams to identify them. Officials had no other details to share about the missing people, saying the passengers came from across southern California and probably farther away.
Nyx Cangemi, a Coast Guard official, told the Guardian that by the end of the day authorities had recovered 20 bodies, and the other five had been seen inside the boat but could not yet be reached.
The Los Angeles Coast Guard responded to a mayday call at approximately 3.15 am reporting that a vessel was on fire.
" This is probably the worst case scenario you could possibly have ," said Bill Brown, the Santa Barbara district sheriff , was indicated that the passengers were probably asleep." We understand the tremendous burden that[ families] are under as they wait to determine exactly what happened and what condition … their loved ones are in ."
Monica Rochester, a Coast Guard official, said:" We will search all the way through the night and into the morning … We all should be prepared to move into the worst outcome ."