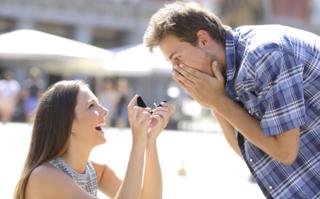 Jessica( not her real name) is about to ask her boyfriend to marriage her – 29 February is a date when, according to tradition, females can propose to their partners. While Jessica prepares for the big moment, she and seven other women who popped the question share their narratives.
"We've talked about marriage a lot and we know we want to get married but I decided to do it on 29 February, since that's true to tradition, " tells Jessica, who lives in Bristol.
She has had photos taken of her stands at five places in the city that are meaningful to her and her boyfriend, holding up signs that spell out, "Will you marry me? "
After showing her partner the photos, she plans to get down on one knee and propose, then take him to a local pub where their friends and family will be waiting.
She has even had jewellery specially made, melting an old involvement ring passed down by her family, and using some of the gold in a bangle for him and a ring for herself.
"It's nerve-wracking but exciting, " she tells. "It's been quite hard to keep it a secret – I think in some ways he knows something's happens now, but he doesn't know how it'll happen yet."
But Jessica is still an exception to the rule. In a US survey by AP, nearly one in four people said they felt it was not acceptable for a woman to propose. And out of the respondents who were already married, only 5% said the woman was the one to propose.
We'll let you know how Jessica get on later in the day – but for now here's what happened when seven other women asked their partners to marriage them.

The underwater proposal: Emilia Ribeiro – Sao Jose does Campos , Brazil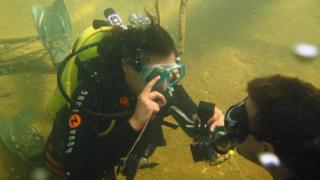 Rodrigo and I had lived together for five years when I proposed. Neither of us are really into words, so I wanted to propose in a way that would be symbolic, but also speech-less.
We went on a guided scuba diving tour in a river in Bonito. It ends up below a waterfall, where it's like you're under a curtain of bubbles.
The diving master helped me conceal the ring in the scuba diving equipment, then when we were behind the waterfall I swam towards Rodrigo with the ring. He was really surprised!
Everybody thought it was a cool notion – firstly because I proposed, and secondly because it was underwater.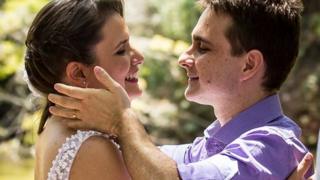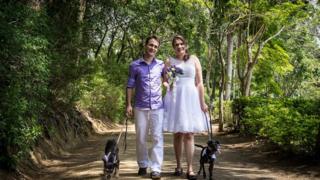 We're now married but Rodrigo likes to joke that he never said actually yes to my proposal[ since we were underwater at the time ].
Society is designed so "the mens" needs to propose to the woman – but "the mens" proposing doesn't construct your wedding more or less romantic.
Women need to be confident – people can garbage so much hour thinking, "When is he going to propose to me? " and creating lots of expectations. I think if you want something done, you can go out there and do it yourself.

The bangle: Ally Richardson – Birmingham, UK