Scientific and Archaeological Diver/ General Dive Bum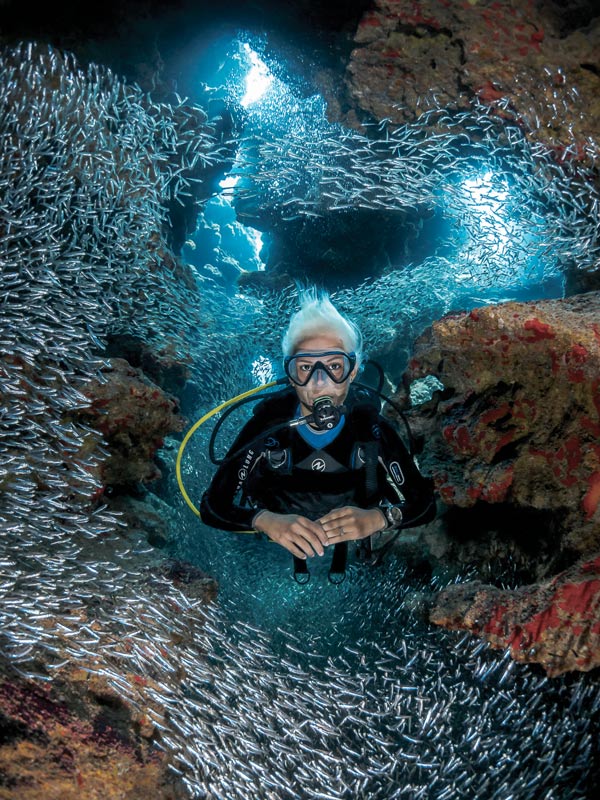 How long have you been diving ?
I learnt to dive when I was 17, and Iam now 28. 11 years of has become a scuba diver!
What stimulated you want to become a diver ?
I was home-educated from when I was 13, and that gave me the time and opportunity to really go out and experience life. I was always into aextreme sportsa, so I learnt to skydive, ran bungee leap, white water rafting, by 16 I was flying aircrafts solo … whatever crazy stuff I could think of! I spent weeks living out in the woods learning indigenous peoplesa and bushcraft skills. I even managed to get septicaemia once by trying to tan deer conceals with brain! I was definitely a little unusual! The thing is though, with all of these things, I enjoyed them, but they never genuinely grabbed me altogether. Then when I was 17 I assured a photo of a cave diver, and I thought it seemed cool. I decided to give scuba diving a go. And I was a wholly hooked. From that first moment of taking a breath underwater I knew this was going to be the rest of my life. And over a decade later I wouldnat want to be doing anything else.
What is your most memorable encounter ?
Ooh, as much as I love all the bigger marine life, like sharks and ocean lions and mantas, I guess the most magical marine life encounter for me was actually swimming through schools of silversides in Grand Cayman. I have never seen anything like it. I couldnat see anything but silvery fish whichever way I appeared. I literally felt like an underwater Disney princess. Altogether magical!
How did diving alteration your life ?
I think it's fair to say that, like many people growing up, I felt a little bit lost in my teenage years. Diving gave me direction and focus. It really has shaped everything Iave done since. As soon as I started diving I knew that I wanted this to be my life.
aTake your time, and enjoy the ride. At the end of the day we all started this athletic to have fun, so make sure you do! a
Tell us about the recent accident and how that affected your life and diving ?
This past year has been tough in many ways, but also I have to say itas been the best year of my life, as strange as that voices. Last March I was walking along the pavement. I actually donat remember any of what happened, so everything I know has been picked up from the surgeons and the first people on the scene at the time. It turns out that an elderly gentleman had an aneurysm at the wheel of his car. He died at the wheel, and his foot slipped on to the accelerator. The car ending up careering off the road into the pavement, and straight into me. I ended up with a bleed on the brain, a fractured neck, transgressed coccyx, and two brokens legs. One breach was fairly simple, but the breaking of the right leg was much more complex. I aimed up losing a large section of my lower calf to an e-coli infection, so I needed a sizeable skin flap taken from the opposite thigh to cover it. Considering the surgeons believed I would lose the leg, I am seriously lucky. Two months in hospital, but Iam still walking, and more importantly Iam back diving. It really goes to show you, though, that anything can happen, at any time. I definitely live much more in the moment now than I used to.
How did the diving community react ?
I cannot say enough about the incredible supporting Iave received from the dive industry. Producer and divers ran above and beyond to help and support me. It was breathtaking. It constructed me realize how much of a community the dive world is, and how much we all have each otheras backs.
Are you diving now ?
I am back in the water! This last January I managed to get back in the ocean for the first time, and it was frankly like coming home. I think itas fair to say that I havenat given up on any of my previous aims; I am only having to reassess and diversify my methods of achieving them. Iam a firm believer in awhere there is a will, there is a waya. I still intend to do everything I done before, itas only my methods and equipment may have to be modified.
What is your favourite dive site ?
Anywhere with caves or wrecks is my favourite location! I do have a special place in my heart for the caves of Northern Florida. Many happy memories there.
Where would you like to dive but havenat ?
I really want to dive in Greenland! I suppose the scenery both above and below the water is incredible. The other big one for me is the Britannic , the sister ship of the Titanic . Thatas a big bucket-list dive for me.
a Dive Odyssey was honestly one of the craziest projects Iave ever done, but also one of the ones Iam most proud of. No matter how much we all love diving, itas not necessarily the greatest spectator sport. We wanted to change that. The director, Janne, was inspired by the classic sci-fi movies like Space Odyssey , Blade Runner , and The Abyss , and had a vision of making an underwater sci-fi movie of kinds. The result is Dive Odyssey . It was filmed in Ojamo Mine in Finland, and Plura cave system in Norway. The film is totally otherworldly and alien, but as always I am in awe of Janneas talents for filmmaking. I have worked with him a lot in the past, but as much as I love Dive Odyssey I did tell him that for our next project he needed to choose some warmer locations! a
Favourite dive snack ?
Extra spicy beef jerky! I love, love, love spicy food.
Favourite diving movie ?
I absolutely love the movie Men of Honour , about the first African American master diver in the US Navy. Itas so life asserting. I also love the documentary Blue Water, White Death .
Proudest diving moment or accomplishment ?
Without doubt it was being able to work in conjunction with the Defence Prisoner of War/ Missing in Action Accounting Agency on a downed WWII B-2 4 bomber, and help to recover the remains of one boy and send him home to be buried at Arlington. I donat guess the feeling of pride will ever be topped. Thatas when I felt like my diving really had a bigger purpose and meaning.
Craziest thing youave ensure underwater ?
A man ride a unicycle. Itas a long story …!
Favourite piece of equipment ?
Like most divers, I do love my gadgets and shiny pieces of dive gear! Right now my favourite piece of equipment would have to be my new rebreather…very excited about that!
Whatas next for you ?
I have actually only started a new job working with TDI/ SDI, so I plan to spend a fair bit of day train over in Florida at HQ with them. And rather conveniently there is lots of awesome diving in Florida!
The post Interview: Gemma Smith seemed first on DIVER magazine.