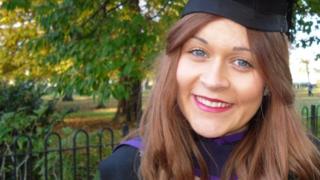 A British student who drowned on the Great Barrier Reef during her first ever scuba dive was not given adequate educate, a coroner has said.
University graduate Bethany Farrell, 23, of Colchester, Essex, died off the coast of Queensland after becoming separated from her diving instructor.
Coroner David O'Connell, at Queensland Coroners' Court, told Ms Farrell had not been given appropriate supervision.
He criticised "serious shortcomings" in how the dive was conducted.
The University of Southampton English and media graduate succumbed at Blue Pearl Bay in the Whitsunday Islands in February 2015, six days after arriving in Queensland for a gap year.
An inquest in Australia found that while approximately 23 ft( 7m) underwater, she became separated from her diving teacher, Fiona McTavish.
The diving teacher momentarily turned away from the working group on novices to negotiate some coral in poor visibility conditions, the court heard.
'Not properly instructed'
Ms Farrell panicked and swam to the surface for about 40 seconds, with witness describing hearing her call out and wave her limbs in distress, but she was unable to stay afloat.
The skipper carrying out "surface watch" did not ensure Ms Farrell and her body was found on the seafloor an hour later.
Mr O'Connell discovered there was "no suggestion that any introductory diver was properly instructed about achieving and maintaining positive buoyancy on the surface".
He built 12 recommendations for the diving industry after a three-day inquest into her death.
They included better training for divers before they head into open water, and that instructors should always be within arm's-length of their divers.
In 2016, an inquest in Essex into Ms Farrell's demise find :~ ATAGEND "There were various fails in the way in which the diving activities were carried out."