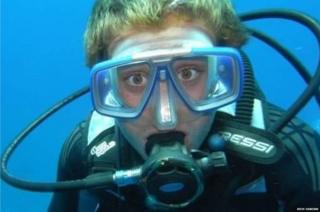 It had been well-planned – a deep diving for four experienced scuba diving teachers. But halfway through its present session, two compressed air tanks operated out, setting off a catastrophic chain of events.
The sky was blue over Cyprus. It was a rare day off for friends Rich, Paul, Emily and Andy and they decided to take advantage of the crystal blue water and search for nudibranchs, a type of ocean slug.
They launched a barge from the shore, anchored it and dived into the sea one-by-one, use their fins to propel themselves downwards into the deeper, darker, water.
They carried on to depth of 40m – 10 m deeper than their teachers would take their clients.
They were young and wanted to "push the limits", Rich Osborn, then 21, acknowledges. But the latter are experienced and well-practised at this level.
As they started to explore their surrounds, two of the group unexpectedly signalled to the others that their tanks had run dry.
Osborn felt "absolute surprise" at this turn of event. But they were trained for such eventualities. There was no need to panic.
The divers used hand signals and underwater slates and pencils to write notes and organised to share the remaining two tanks of air "breath for breath" as they ascended to the surface.
The quartet started to rise slowly, but at 30 m, cold dread swept through them.
They had all run out of air.
"We were frantically trying to sign to one another, scribbling down notes, thoughts and plans. From there you get a little bit panicked – a mix of anxiety and the unknown."
The group had a decision to attain – drown, or rocket to the surface and danger decompression sickness.
"We took one last breath, " says Osborn.

Listen to the podcast: 'Do we drown or rocket to the surface? '