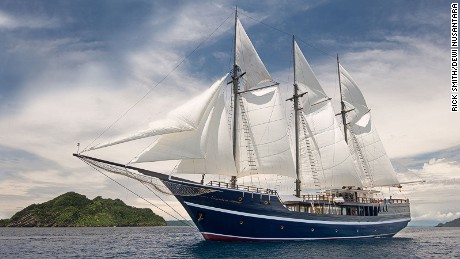 (CNN)Veteran scuba divers avoid dry land, even when they sleep.
They bunk on cushy yachts, known as liveaboard dive boats, anchored over the ocean's most stunning coral reefs.
Why?
Because liveaboards cover both bases: They're dive boats and floating hotels.
These aren't massive cruise ship cities.
They're more like private yachts, ranging from 100 to 200 feet and hosting 10 to 20 serious divers.
Solo divers can bond with new friends, or groups can book the whole boat and have a influence over the itinerary.
Either way, the diving is easy.
Just plop off of the dive platform — day or night — and the reef is right below, stunning and breathtaking.
After the dive, chilled fruit and cocktails are waiting, along with a freshwater hot shower and warm towel.
Here are five of the best:
The Arenui (Indonesia)
Indonesia's traditional wood-built boats are called "phinisi" and have a Captain Jack Sparrow, pirate-ship feel to them.
Besides a stock of rum and lots of hardwood, the similarities end there and the service begins.
The 140-foot
Arenui
is custom-built with 12 different types of woods (the owners say 70% is recycled) and has intricate wall carvings depicting Hindu legends.
Eight deluxe cabins house just 16 passengers attended to by a crew of 22.
When they're not serving gourmet cuisine, they're setting up massages and spa treatments on the sundeck or talking about the next dive or land tour.
What to see
Hundreds of waterfalls spew off the dense green island and for centuries whaling ships used Cocos to replenish their water supplies.
Guests can go ashore and get the full force of a waterfall shower and also see names carved in the rocks by ancient mariners who visited the island.
Carpe Vita Explorer (Maldives)
Perhaps the most unique aspect of the 125-foot Carpe Vita is its 60-foot dive tender called a dhoni.
It keeps divers dry and comfy going to and from the mothership to dive sites.
Many liveaboards have support boats to access sites with tricky anchorages, but this one ups the game with a full bath and hot shower.
It also houses all of the dive gear and compressor systems.
That way, the Carpe Vita can focus on cushy lounges, hot tubs and large cabins.
The ship has two VIP suites on the upper deck with showers and a full-size bathtub, a rare find on liveaboards.
The ship carries a maximum of 20 and offers both seven-day and 10-day itineraries depending on the season.
What to see
In addition to postcard-perfect beaches, there's one thing guaranteed in the Maldives: manta rays.
During the May-to-October monsoon season, the massive rays descend in huge numbers.
Divers who are calm and patient will get a show that sometimes lasts half an hour or more.
In general, diving here is divided into three distinctive experiences: inside the atolls, outside the atolls and riding strong currents through coral passes to mingle with huge congregations of fish.
Familiar species like grouper and snapper are everywhere along with a favorite headliner, the bizarre but friendly giant Napoleon wrasse.
Bonus
Depending on who's counting, the Maldives has more than 1,000 palm-fringed islands and a couple of dozen coral atolls scattered across 500 miles of equatorial Indian Ocean south of Sri Lanka.
Cameras can be pointed almost anywhere to snap the quintessential white-beach, turquoise-water photo — perfect for Instagram or Snapchat.
Read more: www.cnn.com