The annual Dive Equipment and Marketing Association show tops the bill as the dive industry's must-attend event, but who should you make a b-line for?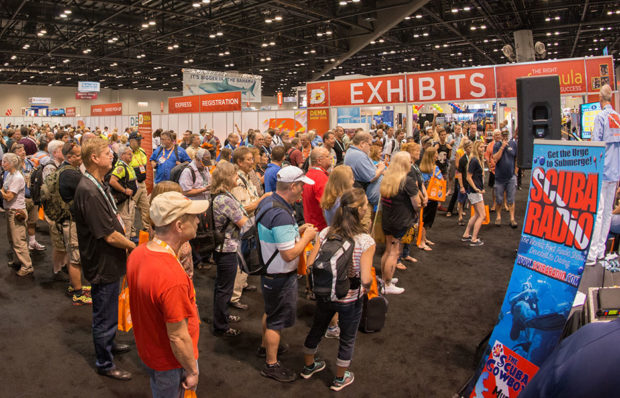 Aggressor
Booth: 4155
Now you've seen our mouth-watering feature on Raja Ampat, head over to the Aggressor booth and chat with owners Wayne and Anne Hasson about their stunning new trips to Sri Lanka and Oman, cheque book at the ready!
Big Blue
Booth: 4198
Roland St John offers beautiful jewelry, stocked with classic and new designs. Available for purchase or for reseller inquiries. A great place to stop by and make a couple of pre-Christmas purchases, all at very reasonable prices.
Cayman Islands
Booth: 2053
If you've not visited the Cayman Islands yet here's a good chance to find out why you're missing out. Drop by and see the lovely people behind one of the best, and most diver friendly, destinations on the planet.
DAN
Booth: 7071
Renew, renew! Since you're here get your insurance sorted for another year. Also a great time to take a closer look at their range of O2 kits, medical and safety equipment.
DIABC
Booth: 6158
Being produced in British Columbia, we're a little biased towards the incredible diving here. So best you drop by here and watch the awesome Scuba Dive BC video for proof!
Fly & Sea Dive Adventures
Booth: 3088
If you're looking for a dive trip but not too sure where, Fly & Sea offer many, many options for trips the world over. Extremely friendly, experienced, and with offers suiting individuals, groups or resellers.
Fourth Element:
Booth: 6087
Last year Fourth Element's Biomap booth was a huge success. Fourth Element are fast becoming one of the most desirable diving brands on the market. Stylish wetsuits, drysuits, undergarments and fantastic ecologically aware clothing.
Huish Outdoors
Booth: 1288
One of the must-sees of DEMA. A huge display with brands BARE, Zeagle, Suunto, Stahlsac, Liquivision, Sharkskin and Atomic Aquatics all in one location. You'll be sure to see a ton of innovative technical and recreational dive gear for every diver.
Ikelite
Booth: 5193
Nothing like a bit of window shopping and Ikelite have produced some of the finest, and moderately priced, camera receptacles in the dive industry. Their booth is crammed with great housings, and some very cool T-shirts.
JW FIsheries
Booth: 5113
JW Fisheries have been a staple of the dive industry for years. There's no one better to chat with if you're looking for cost effective ROV's, side scan sonar or metal detectors.
Kids Sea Camp
Booth: 3035
Specializing in dive adventures for the whole family: Bonaire, Cayman, Palau, Indonesia, Roatan and more. Stop by and find out how you can take the kids away, but still get some quality diving in!
Light & Motion
Booth: 7207
A must-stop light shop. Light & Motion always have something cool and innovative to see – this year is no different, head over and check out their amazing Stella series, and their crazy bright Sola 9600's!
Mares
Booth: 4071
Having recently launched two new product ranges, Mares are expected to have an impressive booth worth checking out. Their new Extended Range and Freediving lines offer a huge amount of gear to discover and drool over.
Ocean Quest Adventures
Booth: 4151
Canadian diving's best kept secret (just look at this issues cover!). Go chat with the informative and super nice chaps from Newfoundland, ask them about Bell Island's mine and wrecks, iceberg diving, and the best fish n' chips this side of the Atlantic.
PFI
Booth: 2133
You've now read two articles in DIVER from Kirk Krack, Performance Freediving International's founder. Head along to their booth and chat further about technical freediving, DPV use and what scuba divers can learn from freediving.
SeaLife Cameras
Booth: 5217
With their Sea Dragon lights and recent Micro 2.0 camera, Sea Life will have some great products on show, so go have a play!
Shearwater
Booth: 7148
Everyone's favourite tec diving computer; made in Canada, renowned around the globe. Shearwater's latest offering, the Perdix, is proving to be as popular as  their Petrel was. Shearwater Research  are a bunch of fine folk worth stopping by and chatting to.
SIDE
Booth: 3123
If you're looking for a dive liveaboard in a remote location, Solomon Islands Dive Expeditions have a fantastic vessel, and a host of trip itineraries through one of the most pristine and un-spoilt locations on the globe. DIVER will be publishing a great feature next year on the historic WWII wrecks scattered throughout the Solomons.
For more info on the DEMA Show click here.